The Club can trace its origins back to 1981 when, according to the Caymanian Compass newspaper, Chris Johnson brought some hockey sticks to Grand Cayman and, as the saying goes, the past is history!
Initially the agricultural grounds, which also doubled as the Island's cricket field, was the home venue, but not long afterwards the John Gray school playground was so honoured. In those early days the likes of Derek Abrahams, Casey Gill, Tim Haddleton along with the aforementioned Johnson were the leading lights of the Club.
1984 saw the Club's few members (of varying abilities and hockey playing experience) embark on their first overseas tour to Nassau, Bahamas, where, with the assistance of a couple of Rugby Club members, a full eleven was fielded. Although only managing a draw and a defeat, the seeds of touring were sown!
Visits to Washington and the JF Kennedy Memorial tournament in 1985 and 1987 followed. In 1988 at the Seoul Olympics the Club, with the formal name of the Cayman Islands Hockey Federation, was accepted into the International Hockey Federation and as such is now part of the Pan American Hockey Federation.
Trips to Miami against the Manatee Club became an annual event, followed by West Palm Beach, Atlanta and, more recently, Jamaica. Visiting teams to Cayman were largely limited to the occasional British naval ships, a single vist from the Florida Manatees and, in May 2011, we welcomed a full Jamaican ladies team.
From those humble beginnings the club now plays on astroturf pitches and is able to field full Men's and Women's XIs.
Developing the Womens' game
That we can now field a full Women's XI became possible as the number of local players has increased markedly in recent years. With two regular mixed games per week, the Club added a Women's training session, on Wednesday evenings. This exclusive session has in turn encouraged more women players to join the Club and their standard of skills and play certainly shows the benefit of the extra training.
International & Club Tours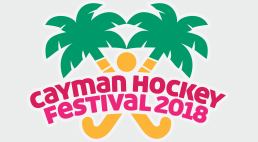 From time-to-time Cayman players tour to other countries in the region, or host visiting teams here. Cayman Hockey has forged very close ties particularly with the Jamaica Hockey Federation resulting in regular series taking place in each country. You'll find that it all gets more serious as international tours approach with skills training being emphasised. Yes, you could play field hockey for the Cayman Islands!