One of the great advantages of living in the beautiful Cayman Islands is year-round field hockey.
We play on Mondays in mixed games. Sessions are generally an informal, all-in affair in which scratch teams are made up of whoever shows. If numbers are large, we'll split into several teams and play round-robin style.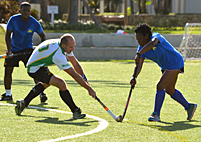 Sometimes, on the last Saturday in the month we ramp the action up and encourage as many players to turn out, along with their beverage-filled coolers, for a field-side tailgate session.
Sporadically through the year, somewhat more competitive Seven-a-Side hockey games are played between four standing teams (Blues, Greens, Reds and Yellows).
All games are played on non-hockey regulation artificial grass pitches.
The aim always is to maximise the fun.
Post-game, players traditionally repair to one of the Island's favourite outdoor drinking establishments to cool off and indulge in a bit of banter.
When & where we play
Monday – Mixed
6pm, year-round
The Annex Sports Field
School Road, George Town
Saturday – Mixed
6pm, special tournaments only
Camana Bay Sports Field
Cayman International School
95 Minerva Drive, Camana Bay
What to bring
Something to drink
Gear – sturdy trainers, shinpads, hockey gloves, hockey stick (no problem if you don't have your own yet; someone will always lend you one)
One white, plus one coloured T shirt
Mouthguard is recommended
CI$6 match fee per game (your first game is free!)